ADVERTISEMENT

Scalloped edges have a lovely aesthetic effect within a website's design, and are relatively simple to implement. In addition to adding a decorative element to a website, scalloped edging can aide site navigation by differentiating sections and alternatively calling attention to certain areas.
You may have even noticed the scalloped edges within this blog; at the top in the header, then very subtly under the post titles, and finally just above the footer, edging has been embellished with a rounded scallop. The trend as of late seems to be a pointed, or "
v
" shaped scallop in web design.
The scalloped edge theme can be used effectively only once in a design or repeated in multiple areas. Good practice would be to repeat the theme at least once so that it doesn't appear out of place with the design, however, it's appeal diminishes when over-done.
For inspiration I rounded up several websites where a scalloped edge has been adeptly incorporated into the design and collected their cropped screen captures below. For an even better view, click the links and visit the sites themselves, inspiration can be found beyond their scalloped edging. Enjoy!
[
See Second in Series: Web Design Showcase: Scalloped Edges II
]
What Katie Does
Freelenz
Uncomplicated
Daniel Oliver - Fleelance Web Design
JoshMattVander
The Future Of Web Apps
cheth Studios
Epic Event
tehCpeng.net
WallCandyArt
Questionable Characters
Vendo Criação
David Hellman
Jay Hafling
eWedding Websites
Pavel Maček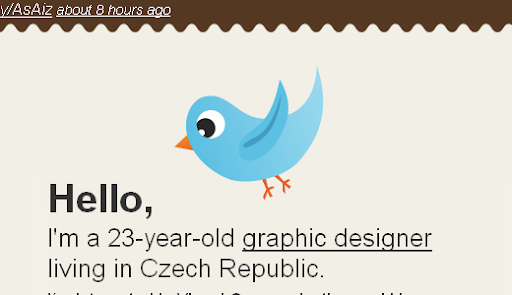 LemonStand
Elitist Snob
Show & Tell Consignment Sale
Does your site also make use scalloped edging or do you know of another site that does? What are your thoughts on this design trend? Feel free to leave your comments or your link below on scalloped edges in web design! I hope you enjoyed this post and found some inspiration in the sites I featured.