ADVERTISEMENT


Here are some recent "Fonts in Use" finds I am happy to share. I'll start with some photos of the
Lecker cookbook
(
Tasty
in German) featuring my font
LT Chickenhawk
. The cookbook which is written in German, is really nicely done and I am glad that they selected my font.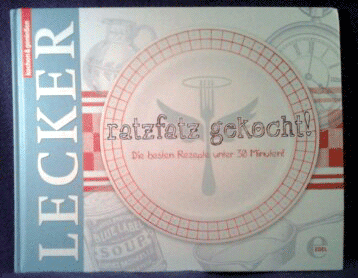 The publishers were gracious enough to send me a copy of the book as well.The photo above is the front cover. The font is utilized quite extensively throughout,using it in illustrations and for all headings and titles, the image to the right is one inner page where LT Chickenhawk shines. Neato!
As a matter of fact, I have them to thank for the motivation to expand the comprehension of LT Chickenhawk, as I designed and created the 'ß' character for them, which then in turn inspired me to complete and add much more to the font. For more on this book,
visit the Lecker website
.
And last but definitely not least, I have four new and lovely screen captures of "Fonts in Use," to share. Take a moment to check out these lovely websites that make a momma proud. :)
I hope you enjoyed viewing and visiting these websites. If you have put my font to use on the web or in any other way and would like to share feel free to comment below. I'd be happy to feature your creation in a future Fonts In Use post.
Similar Posts